Part 1: Servers, PLC and HMI Design
Best practices are extremely important to follow because they represent the most efficient or prudent course of action. They have been worked out over time through trial and error and are in place to avoid issues before they occur or resolve issues when they arise.
When it comes to Supervisory Control and Data Acquisition (SCADA) best practices, there are several areas to consider. In the first part of this two part blog series, we will discuss best practices relating to servers, Programmable Logic Controller (PLC) and Human Machine Interface (HMI).
Servers Overview
When designing a SCADA system, choosing the right hardware is critically important as it needs to work synchronously with the software. It is ideal to choose an operating system that offers open architecture and autonomy. First and foremost, avoiding bottlenecks in the system is incredibly important. All devices should operate at more than just the minimum processing capabilities required by the system application, which helps to avoid processing line hold-ups.
Virtual and Local Servers
Servers can be both virtual and local, and there are pros and cons to either depending on your system requirements.
Best practices for both non-virtual (local) and virtual designs are to ensure that processing power and storage capacities are optimized. Local servers allow for better processing power, which is very important for SCADA systems, and larger hard drive memories for Historians, which are important because they store all of the historical data from the system. Virtual design servers will also need to have both powerful processing and large storage capacities, but keep in mind all Virtual Machines (VMs) will run off only one piece of hardware.
Historian Server Overview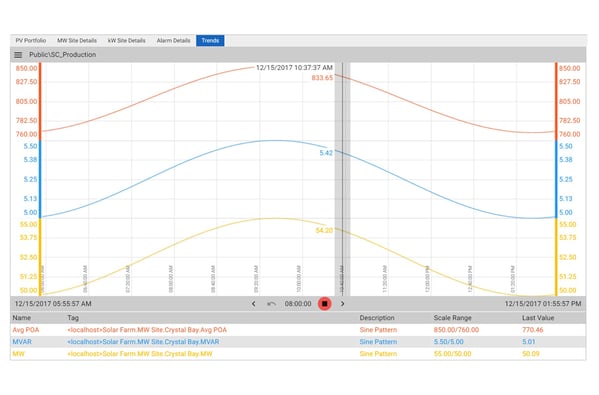 All software supplied with a SCADA system relies on the SCADA and historian servers. The difference is that the historian server is going to have more memory and hard drive capacity to store data.
The SCADA server sends real-time data and the historian server receives and stores it. This data includes data power measurements, voters, current, all of the alarms from the verse, and all of the alarms from the system as a whole. The historian server stores all of this information so you can access it for reporting, trends or queries.
Historian Server Best Practices
Take the time to configure every data point in the system, as this will be essential for capturing performance metrics and to troubleshoot causes for system failures or wrong operations.
Establish solid report generation while configuring for easier data analysis.
Organize datasets so that they are configured to rollover each day (from 00:00 to 23:59), so that the data will be able to split when the calendar year changes.
Synchronize the system's time to follow the local server time to help with data analysis.
Establish trend generation for real-time testing and data analysis.
PLC Overview
A Programmable Logic Controller (PLC) is a piece of hardware that controls devices or processes based on pre-programmed, closed-loop logic. At Nor-Cal Controls, we predominantly offer PLC hardware-based controllers instead of PC-based controllers because if a server or PC is compromised and goes down, a PC-based controller will no longer be intact, functional or operational. A conventional PLC will keep operating even if a server goes down.
PLC Best Practices
The brain of the operation, the (PLC), also called the Power Plant Controller (PPC), needs to be configured and programmed to concentrate all system data, and to automatically correct any possible user-errors or system volatilities to avoid plant operational dysfunction. The PPC should protect the user and the system from themselves, for example:
At the user level: Adding clamps to avoid setpoints outside of the pre-established limits.
At the local level: Calculating to avoid inverter trips caused by being overvoltage/undervoltage.
At the global level: Calculating to implement a dynamic clamp for reactive power so that the power factor limits of the plant are not exceeded.
In order to establish communication between all devices, data concentrators and protocol converters need to be designed in conformity with network devices such as firewalls and managed switches, to ensure secure data flow for the system.
Last but not least, the most important best practice is to regularly backup your servers and VMs either with hardware or in the cloud. This is essential, and will prevent data loss or having to rebuild a system from scratch.
HMI Design Overview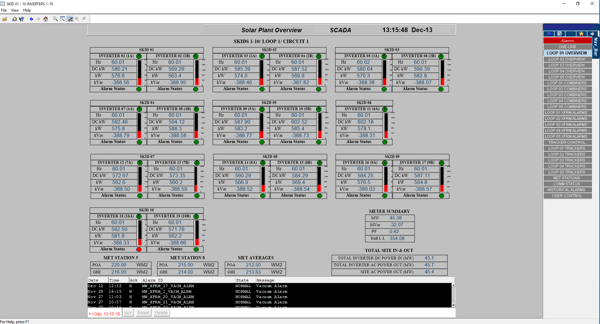 As the name suggests, the Human Machine Interface (HMI) should be a very easy to read visual overview of the system. HMI includes the graphics used to monitor and control the facility.
The industry is increasingly paying attention to the quality of HMIs and the value of having a truly usable operator interface. HMIs that are clear, consistent, give context, and provide real feedback for operator actions in an organized way should always be the goal.
HMI software allows operators to:
View data from inverters, trackers, substation devices and other solar facility components
View alarms from these devices
Check power production from inverters
HMI Design Best Practices
Optimize the screen organization by clearly displaying all of the data and making it accessible to enable easy viewing.
Make HMIs user-friendly by designing self-explanatory screens with easy to find navigation.
Color coding also improves visual access, for example: green means devices are in good working order and red could signify the presence of an alarm.
Consider using a dynamic design, for example: the bus changing color corresponding to its temperature and having switches flip when they are opening and closing. You can show movement along with color, which will make everything easier to monitor and operate.
Set system standards, such as: using the same background color for setpoints, metering, feedback values, etc. For example: setpoints will have a dark blue background color, metering will have a grey background color and feedback values will have a white background color.
Layer alarm notifications from "LoLo" (low low) to "HiHi" (high high) priority and acknowledging response capabilities.
Strengthen the system security by showing confirmation messages for setpoints and adding two-factor password authentication for commands.
Open Architecture Systems and Autonomy
Choosing a system that has an open architecture will ensure that spare parts are readily available, and is the first step towards being able to properly maintain your system. That way every part of your system can be worked on by in-house technicians without the need to hire proprietary technicians or engineers. This gives your team full autonomy and ensures that they can see every part of the SCADA system.
Instead of having to call the company who set up the system when issues arise, and run the risk of them possibly breaking your current set up, Nor-Cal trains your team, allowing you to cut out the middle man. Depending on the issue, you can always have the provider of the system jump in for help if need be.
Why Choose Nor-Cal Controls?
With over 8GW worth of successfully commissioned projects across the United States to date, Nor-Cal can help EPCs, Owners and Operators by integrating an open architecture SCADA solution, based on industry best practices.