Meteorological (MET) stations are crucial in measuring the efficiency and performance of solar PV plants. With real-time data, operators can monitor any decline in power generation that may affect energy output and ROI. MET data trends and patterns can also help plant managers determine the most appropriate schedule for preventive maintenance activities.
Let's look at the MET requirements for solar PV facilities, from the number of stations to the typical measurements and sensors required by site owners and utilities.
How many MET stations are required per solar PV site?
The number of MET stations required is mostly dependent on the site capacity. The typical requirement is two MET stations up to 20 megawatts, and one additional MET station for every 40 megawatts after that. Even small-scale DAS projects usually prefer two MET stations.
There are exceptions. Depending on how the site is built and/or the owner's requirements, the number of MET station per site can change.
For example, solar PV sites are often spread out across a wide swath of territory and terrain. If there are different or abnormal geographical locations, site owners often prefer a separate MET station for that particular location.
What are typical measurement requirements for a utility solar site?
The two most important measurements for utility solar sites are Global Horizontal Irradiance (GHI) and Plane of Array (POA) irradiance. Irradiance is a measurement of solar power defined as the rate at which solar energy falls onto a surface. It is quoted in watts per square meter, or W/m².
Other common MET station measurements include back of module temperature, air temperature, relative humidity, barometric pressure, wind speed, wind direction, precipitation and sun angle position. Some facilities also need to measure the current on the panels in order to calculate soiling on the array.
These have long been the typical measurements, but as solar increases on the grid, we are beginning to see additional requirements from owners and utilities. Southern California Edison (SCE) requires solar sites to provide one diffuse irradiation sensor, which gives the diffused angle by the sun as well as direct GHI. SCE also requires an RSR2 sensor, which is a rotating shadow band sensor that gives the shadow or azimuth angle from that sensor.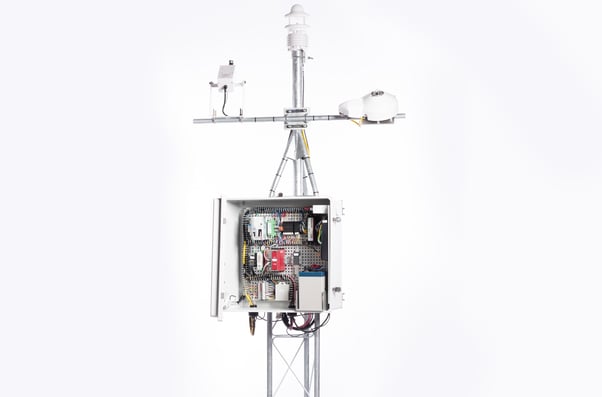 That's much of the reason Nor-Cal Controls designed the Tahoe MET Station with open architecture. That flexibility allows for any type of sensor and about 250 protocols to accommodate whatever the owner or utility requires.
Do these measurement requirements differ on a commercial/DAS-sized solar site?
The quick answer is "yes". Most commercial or DAS sites have just the standard measurements, like GHI, POA, back of module temperature, air temperature, wind speed and wind direction.
Sometimes, though, the owner of a small DAS site doesn't want or need all the measurements. In order to keep costs down, Nor-Cal Controls can offer more cost-effective alternative sensors. Because of the flexibility of our systems, we can provide just specifically requested essential sensors rather than a whole MET station, so site owners can meet their specs but keep costs down.
Are there any specific data/telemetry requirements that are typically seen for MET stations?
Telemetry requirements typically come from utilities and regulatory authorities like CAISO in California, ERCOT in Texas and PJM in New England. For example, CAISO needs a continuous MET station telemetry from a solar PV plant in order to know how much that plant can produce based upon the MET station requirements.
Common telemetry points required by the utilities include GHI, POA, back of module temperature, air temperature, wind speed and wind direction.
Telemetering the MET station data is mandatory for utility solar PV plants. The data must be continuous and reliable.
What are some of the special sensors that can be added to a MET station?
The albedometer is a newer sensor that many owners and utilities now require. It gives irradiance from the sky as well as the reflected irradiance from the earth. Albedometers are essentially made using two pyranometers, however they can also be provided as a single sensor. As the popularity of bifacial module usage on solar sites increases, the need for albedometers also increases.
There is a also a new sensor called the SPN1, which like the RSR2 has a shadow band. It is a very sensitive data sensor that provides data readings in millivolts (mV). It is difficult to read such tiny measurements accurately, but the Tahoe MET Station is able to do this.
Is battery backup required on a MET station? If so, what is a typical backup time requirement?
Battery backup is crucial because if a site loses power—due to weather, equipment malfunction, maintenance activities or any other reason—the owner or utility needs to know how much energy (revenue) they have lost. Data from MET stations sensors is stored locally to the station itself, in addition to the local historian's data machine. With battery backup, the owner can pull out that data once power is restored and calculate how much energy was lost during the outage.
The second reason for battery backup has to do with maintenance. Maintenance sometimes requires energizing parts of a solar plant. Battery backup prevents a loss of communication between SCADA and MET station during that period.
Typical battery backup requirements are between 18 to 24 hours after the loss of the main AC power supply. The Tahoe MET Station can withstand up to 38 to 40 hours on battery backup. Some solar sites require that the battery be recharged using a solar panel. The Tahoe meets this requirement as well, and even has a solar panel battery backup so the battery can be charged on DC power if needed.
Are there any other extra features that can be added to a MET station?
One of the major features on the rise is the addition of the soiling station. There are now a few different standalone soiling stations on the market. The hitch is that not all MET stations can "talk" with these new stations, so owners and operators have to go two different places to grab the data. The Tahoe MET Station can support around 250 protocols, which covers 99.999% of sensors and equipment. When the MET station and soiling station can communicate, owners can get all the data in one place.
With rapidly evolving technology and new sensors entering the market all the time, scalability of I/O functions is a very important feature for MET stations. For example, the Tahoe MET Station can have different RTPs, RTDs, digital inputs and outputs, and analogue inputs and outputs. It has a port access programming function available for configuration attaching the new devices. If in the future there is a new sensor that needs to be integrated, the Tahoe MET Station has that capability without changing any type of hardware of software.
Are there any other requirements to consider when designing a MET station?
Having the most advanced sensors doesn't matter much if the MET station itself can't stand up to the elements. MET stations are typically located in the field, and these locations are remote and fully exposed to the elements. While not as exciting as the latest sensor or feature, the mounting and structural calculations of the MET station are incredibly important.
One of the major requirements MET stations must comply with is wind rating. The actual construction and mounting of a MET station typically falls under the purview of an EPC or construction company. However, the wind rating of the MET station typically comes from the Owner to meet the project specs. For our MET stations in high wind areas, we have a solution called pile-mounted MET stations where we provide all the mounting brackets to attach the sensors to a pile (pole). This increases the wind rating up to 135 miles per hour.
Mounting brackets also come into play when considering the tracking system. There are several options for tracking systems on the market, including NEXTracker, ATI and GameChange. Appropriate brackets must be used to connect the POA sensor to the torque tube of the tracking system. The MET station vendor should provide different types of tracker mountings to make it easy for the construction contractor to add the sensor to the plane of array and attach that sensor back into the MET station to read the data.
Conclusion
The Nor-Cal Tahoe MET Station can support around 250 protocols, which covers 99.999% of sensors and equipment, and is easily scalable to add new sensors without changing hardware or software. Its open architecture design lets it integrate seamlessly into your current SCADA system, and can significantly lower your total cost of ownership.
If you're interested in the Tahoe MET Station for your solar PV project, or if you just have questions, contact us at (916) 823-9734 today.