Let's face it, the work environment can be competitive and stressful. The possibility of burn-out in our industry is very real. More and more companies are now recognizing this and implementing ways to improve and promote employee well-being. Nor-Cal Controls is no stranger to the concept of keeping their employees happy by creating a paw-sitive social environment and that's certainly worth barking about!

Yes, Nor-Cal is running with the pack, and us Norcalians are now allowed to bring our dogs into the office. In the current climate, about 68 percent of households in the U.S own a pet, and 60.2 million of those pets are dogs. It's a well-known fact that dogs can have a positive influence on our well-being, and bringing a dog to work can also enhance social interactions and bonding between colleagues.
Other advantages to bringing a dog to work include:
Break Time
This might seem like it would be more of a distraction, but taking a walk break with your dog and getting some fresh air is a great tool to help you perform optimally. Not only that, but a walk with your dog can also clear the mind and provide a bit of physical activity throughout the day.


Productivity
Spending too much time on one project can actually decrease your productivity. Our dogs remind us to pause with a mental break, so that we do not become overworked or stressed.

Speaking of Stress
Petting a dog encourages our bodies to release oxytocin, which is a stress-reducing hormone. Bringing a dog to work lowers stress levels, improves communication, and builds trust. Nor-Cal has found these values imperative to improving overall employee morale.
Meet The Dogs of Nor-Cal
Angus McDogFace, Rottweiler & Great Dane mix

'"Bringing a dog to work with me is an amazing benefit; it socializes him, exposing Agnus to a whole set of new faces that are friendly to him. It also socializes me and forces me to interact with my co-workers. This is a nice change for me, as I'm normally holed up in my office. And there's just a peace knowing that your dog is sleeping on the floor next to you, content to just be with you."
-Chuck Colby, IT/OT Solutions Architect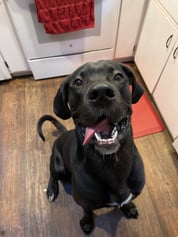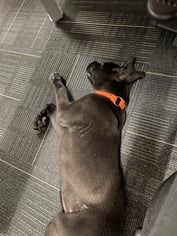 Ash, Yellow Lab
Dog mom: Katie Walsh, Engineering Supervisor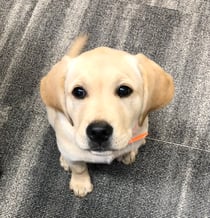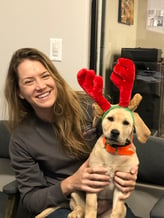 Charlie, Golden Doodle
"As soon as I got Charlie as a puppy, I was allowed to bring him to work. It is nice to have that time to not only bond with him, but also for training and socialization purposes."
-Anita Flower, Senior Project Accountant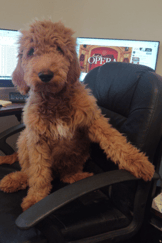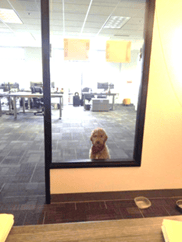 Daisy, Yellow Lab
"It is a really nice perk when we can bring our best friend into the office for the day. It also forces us to get away from our desks for a few minutes to take them on a quick walk outside. It's a win-win for the employees."
- Project Manager II, Pam McKay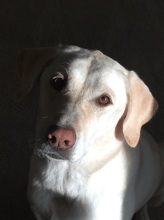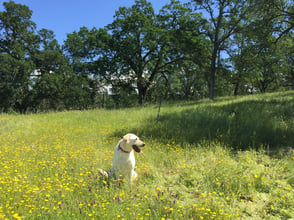 Kenshin, Chocolate lab, Vizsla, and Pit Bull mix.
"As Kenshin's been getting older, I'm blessed to be able to bring him in to spend more time with him (even if he's just sleeping under my desk), and I don't have to leave him home alone so much anymore. I think that Kenshin gives a lot of people at the office a little extra joy in the busy day as well, including myself."
- Angela Donley, Proposals Coordinator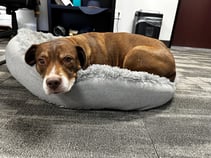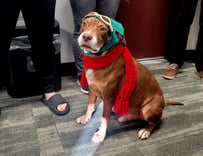 Penny the Pup, Cocker Spaniel mix
"Dogs have such short lifespans that I want to spend as much time as possible with Penny. I am grateful to work in an environment where dogs are a huge part of the culture!"
-Alisyn Gularte, Marketing Manager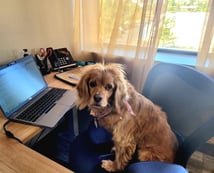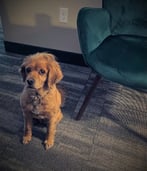 Strider, German Shepard, Labrador mix.
"At the time, it was more of a necessity to bring Strider to work as he was a puppy and demanded a lot of attention. Now that he's bigger, I look forward to bringing him back to the office and thankful to have the option available."
– Thomas Campbell, Network Technician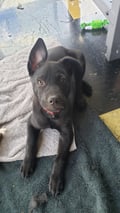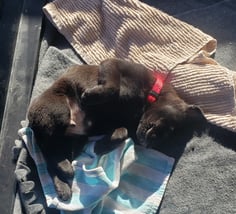 As you can see, it's just another typical day at the paw-ffice here at Nor-Cal. Having our dogs in the workplace builds morale and contributes to our company's culture of collaboration. It truly is a
wonder-fur place to work here at Nor-Cal Controls.
Learn more about our company perks and/or reach out to chat about your next big project!