Last week the Nor-Cal Controls team hit the ground running to exhibit at the Re+ 2022 tradeshow (formerly knowns as SPI, ESI, and Smart Energy Week). After a two-year hiatus of shows being cancelled due to the pandemic and Hurricane Ida, RE+ brought a high level of excitement and energy with over 800 exhibitors and 27,000 attendees at the Anaheim Convention Center, this was one of, if not the largest renewable energy events in the country!


In this fast & furiously growing industry, the team agreed that it was so wonderful to connect with many of the top and upcoming EPC's, Owners and O&M's. Their discussions included ways to continue to grow our partnerships and build on efficiencies in our projects, along with exploring new project pipelines and opportunities on the horizon.

From the time the convention center opened until the doors closed, the team had back-to back meetings each day with customers and prospects at booth 1871. The booth space was in a central location that also allowed for the team to engage in many unplanned walk-up conversations that were all very promising!

Regarding booth logistics, the meeting space only had four chairs and most of the groups they met with had at least two – four people from their team represented. Nor-Cal could have benefited from a larger meeting space and with that--a larger team in attendance to be able to "divide and conquer" more effectively. With all the meetings, there was not much bandwidth to break away and walk the floor unfortunately, but objectives were met and the RE+ show exceeded the team's expectations.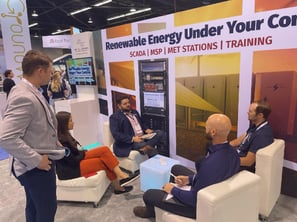 The Small but mighty team included:
Rob Lopez
CEO
Rob joined Nor-Cal Controls as employee number three where he began in the field supporting engineering. He later moved within the company to Business Development and naturally fell into that role of building out the different departments to include proposals, sales, and marketing. A natural leader, in 2021, Rob took on the role of CEO where challenges of a pandemic and supply chain issues were met. With Rob's adaptability to change and his strategic vision, Nor-Cal Controls continues to sustain and grow within the industry.

Matt Winchell
Business Development Manager
Matt has been with Nor-Cal Controls as part of the Business Development team since 2019. During this time, he has been focused on supporting new partnership and project opportunities, working closely alongside the Proposal and active project (PM and Engineering) teams within the company.
His professional background includes over fifteen years of professional experience in sales, management, strategic planning, and operations, across multiple business sectors.

Troy Morlan
Proposals Manager | Technical Advisor
For the last seven years, Troy has been an instrumental member of the Nor-Cal team serving as a past project SCADA Engineer to now his current role of leading the Proposals team. Additionally, Troy provides insight and expertise for both the technical and commercial aspects of SCADA.
The Nor-Cal Team, they just keep going and going…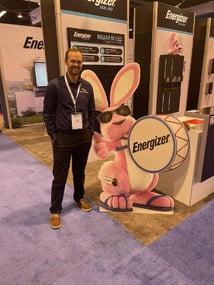 We are so grateful to everyone who stopped by and met with our team. This past year, we also exhibited at Intersolar North America, Cleanpower, and attended SAMNA, but the energy and engagement for this convention was second to none. Nor-Cal Controls is certainly looking forward to attending RE+ next year, in Las Vegas among other solar and storage industry events. Stay Tuned!

If you missed us at RE+, don't hesitate to reach out. We'd love to learn about your next big project!
Collaborators: Matt Winchell