When you're trying to determine which SCADA provider to work with for your solar PV project, it's important to make sure that you're comparing apples to apples between different proposals. You need to know that the proposals are complete in scope for each item and have the right capabilities, ensuring that you get a complete package solution for your project.
Here are 10 questions to consider when choosing a SCADA integrator.
Question #1: What scope related documentation submittals do you provide?
At a minimum, bidding SCADA integrators should provide these documentation design details, specific to the SCADA system scope of work (SOW):
Detailed bill of materials (BOM)
Comm block diagram
Rack elevation diagram
Wiring diagrams
Networking details including the fiber and the ethernet for the SCADA network
Layout and dimensions
IT/cybersecurity details (including NERC regulation compliance if applicable)
IP address list
SCADA points list
Sample HMI graphics screenshots
Equipment and software data sheets
Factory acceptance test (FAT) plan and report
Site acceptance test (SAT) plan and report
Warranty and RMA information
Any available O&M manuals and training documentation
You can learn more about SCADA documentation and site testing here.
Question #2: What equipment do you supply?
The SCADA integrator should provide a 19 inch SCADA rack and all associated hardware:
Local operator workstation (KVM keyboard, video, mouse and KVM switch)
SCADA and Historian servers
Power Plant Controller (PPC)
Any required data concentrators and protocol converters, based on the types of devices the SCADA system will need to interface and communicate with
GPS clock for time synchronization
SCADA Real Time Automation Controller (RTAC) to integrate all substation devices (IEDs)
If your plant needs to connect to a third-party off-taker like a utility or ISO, this is typically done through an RTAC functioning as a Remote Intelligent Gateway (RIG). A RIG is a telemetry device that allows an ISO or utility to collect required data from the project site. Make sure the SCADA integrators bidding on your project include the required RIG and supporting software for your utility, ISO and other third-party integrations.
The SCADA integrator typically supplies the following networking equipment:
Firewall, which is connected to the ISP router, enabling a secure operator connection to the local SCADA system
Root switch (or switches for a redundant configuration)
Associated patch panels
UPS with battery backup (as many batteries as needed to meet the backup duration requirement)
The SCADA integrator also typically supplies the field network communication enclosures. These outdoor rated enclosures are installed one per inverter pad location. They contain networking equipment that tie in the field devices and allow the networking equipment to communicate back through the fiber network to the SCADA rack, which is typically located in the substation control house. For smaller project sites that do not have a substation building, there will be an outdoor SCADA rack with HVAC unit instead.
Each field network communication enclosure typically includes, at a minimum:
DIN rail assembly with a fiber/ethernet switch
Patch panel with associated fiber jumpers
Any I/O modules needed to monitor the medium voltage (MV) transformer alarms
Any needed protocol converters
Power supply: UPS and battery backup (at least 2 hours of duration)
Question #3: What software do you supply?
Software typically supplied by the SCADA integrator includes:
Any server specific software (i.e. Operating System (OS) and/or virtualization software)
HMI software
Alarm notification software
PLC software (full development license recommended)
Historian software
Antivirus software (if applicable)
Any software required to allow third-party off-taker connections (i.e. utility connection, ISO connection)
Any software required to integrate owner-specific software, such as an EMS solution
Any required protocol conversion software (i.e. Kepware)
Question #4: What control functionality is included?
A SCADA system's specific control capabilities will vary depending on the power purchaser agreement (PPA) and interconnect agreement (IA) requirements, as well as specific owner requirements.
However, there are standard recommended controls for large utility-scale projects. We recommend full SCADA control, including but not limited to:
MW curtailment
Automatic voltage regulation (AVR)
Power factor control
VAR control
Droop control
Voltage droop
Breaker and CAP bank control
ADS interface/system capability (if participating in the CAISO market)
Learn more about power plant controller requirements here.
Question #5: How will you support the site's IT/cybersecurity requirements?
Specific IT/cybersecurity requirements for solar PV sites vary depending on whether or not the site will fall under NERC regulations. If it will, there are organizational, operational and procedural requirements codified in NERC Standard CIP-003 to mitigate risk to the BES Cyber System. Your SCADA provider should be able to provide the right hardware and networking configuration for the firewall and managed switches, and make sure you have the proper documentation to support those configurations.
We recommend that you have a cybersecurity expert such as Nor-Cal partner GridSME audit your site to ensure it's within compliance. NERC requirements are ever-changing, and many utilities are beginning to add cybersecurity addendums to their solar facility contracts as well. Even if your site doesn't fall under regulatory control, you need to consider business continuity. What is the financial and reputational risk of a cybersecurity breach or event? An expert such as GridSME can help you mitigate that risk.
Question #6: Who is responsible for what when it comes to installation?
Installing a SCADA system requires the work of not only the SCADA provider, but also the PV Engineering, Procurement & Construction (EPC) contractor. The SCADA integrator should make clear their scope delineation demarcation.
The common delineation of responsibilities is as follows:
The SCADA integrator pre-fabricates all of the equipment they're providing within the 19-inch SCADA rack and the field network enclosures (including any MET station enclosures if applicable under the contracted scope of work). The equipment is pre-installed and pre-wired for the internal connections. Following the FAT testing, the integrator ships the equipment to the job site.
Once the equipment arrives, the EPC team usually installs the equipment in the substation control house and in the field, using the installation documentation provided by the SCADA integrator. They run power to the equipment and install the fiber optic cables. They handle any external connections such as the inverters, MET stations, and tracker controller units into the switches, and any MV transformer alarms that need to come into either an ethernet switch or to an I/O module.
The SCADA provider comes out to the site to perform pre-commissioning activities, and typically then installs the fiber jumpers, performs a visual inspection, and does a full point to point check of the network.
So, in short, the field installation is done by the EPC team, but the pre-installation within the SCADA rack and field network enclosures is typically done in the SCADA provider's panel shop. The high voltage EPC provides the substation equipment.
Question #7: What is included in the commissioning scope, and how much time is allocated?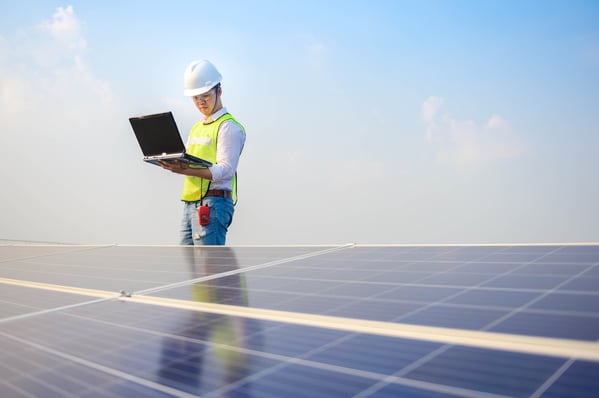 When considering a SCADA integrator, you need to ensure that there's adequate time designated to perform pre-commissioning and commissioning activities, and that you understand the scope.
Pre-commissioning is done at the job site to install all fiber jumpers, perform the network checkout, and perform MET station commissioning if required under the SCADA integrator's scope of work. The network checkout typically includes:
Visual inspection
Powering up all of the devices to ensure proper communication (with support from the EPC team)
Establishing a remote connection through the firewall, so the project's lead engineer can remotely access the site for full commissioning activities
While pre-commissioning always takes place at the job site, full commissioning can be done remotely depending on the site's security requirements and the ability to connect. Sometimes, the SCADA provider must be onsite at the field to perform these commissioning activities, especially if any troubleshooting is required. Make sure that the SCADA provider has the capability to travel to the job site if needed. During the full commissioning, the lead engineer will perform the SAT checkout. This is performance testing that takes place prior to COD.
As part of your vetting process, you should make sure the SCADA integrator you're considering includes adequate time to support whatever the commissioning needs will be, which will ensure that everything can be successfully checked out before the site is live.
Question #8: What kind of operator training do you provide?
As part of the project turnover, your SCADA integrator should provide site-specific system training for the operators who will handle ongoing O&M of the system. This training may take a half day to a full day, or even longer depending on the size of the project. Typical basic training includes a system walkthrough, HMI screens, plant operations and site alarms.
Often, this training can be done via screen share video conferencing. If you prefer onsite training, make sure ahead of time that your SCADA provider has the capability to travel to the job site. If you require more formal training, that is something to confirm with your SCADA provider as well.
The SCADA integrator should provide an O&M manual that explains how to operate the system and how to maintain it. You will want to make sure that the O&M has the ability and the information needed to take over the ongoing operations and maintenance for the system.
Question #9: What kind of warranty is included?
At minimum, the SCADA integrator should provide the standard OEM warranties for all of the hardware and software provided under the SOW.
However, the current industry standard is at least a two year warranty with the ability to extend to up to five years. The warranty should include both equipment and workmanship. Make sure that the warranty information is provided as a documentation submittal for all the provided equipment, including any RMA process information.
Question #10: How long will the system last without need for a migration, and can it support upgrades and modifications?
The SCADA system should last without the need for a migration for at least 25 years. It should also give you the capability to make ongoing upgrades and enhancements, such as adding additional devices, data points, controls and battery storage should those be future requirements down the road.
This is why we recommend choosing an open architecture SCADA solution that is supportable, robust and scalable. At Nor-Cal, we build open architecture/open protocol solutions that are bolt-on capable and easily upgradeable and modifiable in the future. Owners have the assurance of future scalability and flexibility. It is much easier to modify, enhance, upgrade, migrate and swap components in an open architecture system than a proprietary, "black box" system. With an open architecture system, you also aren't required to rely on the original SCADA provider to support the system.
If you need a proposal, which includes a turnkey SCADA system scope of work, reach out to Nor-Cal. We can provide a full SCADA system that meets all of the above requirements.
Request a proposal or schedule a call today.