Alarming is one of the primary functions of the Supervisory Control and Data Acquisition (SCADA) system at a solar PV plant. An alarm is a notification or message that informs the operator of what's happening at the plant. These events can range from routine maintenance alerts all the way up to plant emergencies. Any device or piece of equipment monitored by the site's SCADA system can generate alarms.
Alarms are received and viewed through a Human Machine Interface (HMI)—a computer screen that displays plant data. Alarm notifications may also be "pushed out" via text or email. We'll cover the different notification methods later on.
What are the different types of alarms?
Alarms can be categorized by their a) origin and b) severity. We'll cover the types of alarms by origin first, then discuss how priority is assigned.
1. SCADA & Plant Controller Alarms
SCADA system alarms notify the operator of power supply issues (activation of the SCADA UPS and backup power supply) and network issues such as loss of IP connection. The most common SCADA alarm is "Device Down," which occurs when a device stops communicating on the network. You can read more about troubleshooting this particular alarm here.
Plant controller alarms flag problems related to:
Operations
Power generation
Compliance (overproduction, underproduction, low DC/AC voltages)
Financial excursions (for example, underperformance due to temperature or lower-than-expected DC values)
There are a wide range of plant controller alarms. For the purposes of this 101 article, we'll cover two of the most serious alarms that can have a direct impact on operations and revenue. For more on plant controller alarms, see our SCADA Troubleshooting article.
Automatic Voltage Regulation (AVR) Control Alarms
The AVR logic operates the site's inverters in order to meet the voltage setpoint required by the utility or ISO. The site's Power Purchase Agreement (PPA) and Interconnect Agreement (IA) will typically specify the required voltage setpoint range.
AVR controller alarms alert the operator when the site has gone out of the specified voltage range. Imbalances and discrepancies directly affect the grid, so these alarms need immediate attention. There is also a risk of low side equipment fault if the plant starts producing or absorbing excess reactive power while trying to control voltage.
Active Power Control (APC) Alarms
APC regulates the amount of active power at which the plant should run. The site's PPA specifies the maximum set point. If the plant is running an output that exceeds at the specified MW or KW, an alarm is triggered.
These alarms are necessary because many solar PV plants are capable of producing more power than they're rated for and that's allowed in their PPA. Overproducing can cause contractual issues.
2. Substation Alarms
These alarms are extremely critical and require immediate action.
Substation alarms include:
Communications to the protection devices, revenue meters, and building environment
Breaker status alarms (over- and under-voltage trip, over- and under-frequency trip)
Transformer alarms for oil level, winding temperature, pressure levels, and liquid temperature
3. Field Equipment-Related Alarms
These alarms involve the field equipment at the PV plant, including inverters, tracking systems, PV arrays and MET stations. Inverter alarms warn operators of problems with voltages, currents and frequency. Tracker alarms trigger when the system is not at the correct setpoint.
What are the different priority levels of alarms?
While all alarms should be addressed, not all signal an immediate risk of production loss and/or non-compliance. There are three priority levels for alarms: High, Medium and Low.
High Priority
You can think of these alarms as "fire alarms"—there's an emergency that requires immediate action.
High priority alarms warn of:
Imminent major equipment failure
Loss of production
Plant that has tripped offline
Deviations from the specified voltage and power due to a serious fault
Putting off a high priority alarm can lead to equipment failure, loss of production, and compliance issues with the utility and/or ISO.
Medium Priority
These alarms don't require emergency action, but still need to be addressed very promptly. They let the operator know about operational issues at the plant that aren't at the same emergency level as, for example, failing equipment, but do need serious attention.
Low Priority
These are informational or maintenance alarms that don't require immediate attention. For example, a low priority alarm might alert the operator of a fan filter that needs cleaning.
How are different priorities assigned for alarms? Which software is used to set the assigned priorities?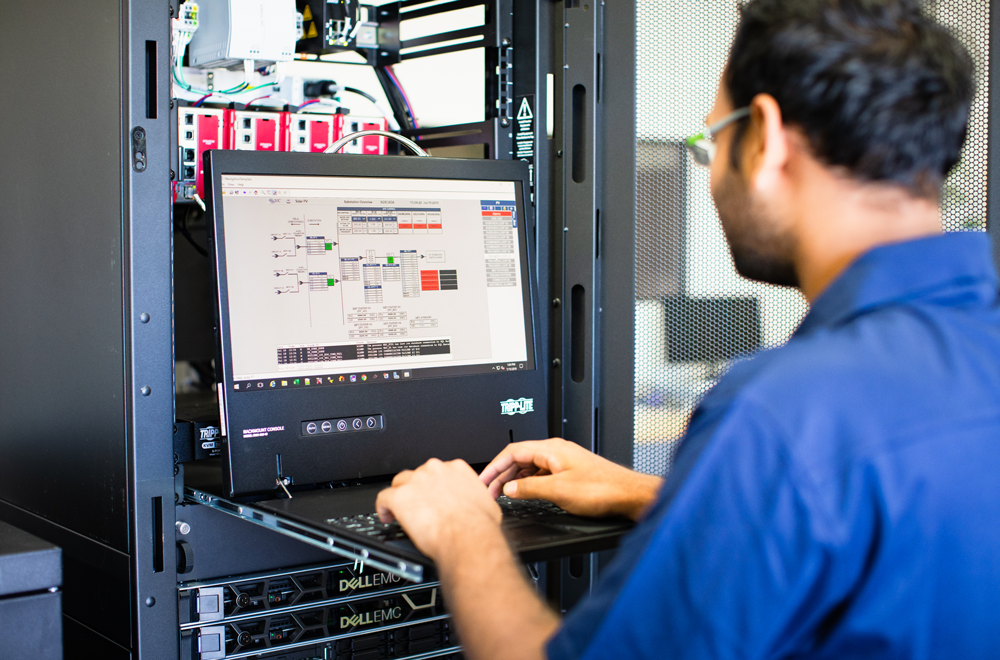 Field and substation equipment manufacturers provide alarm priority recommendations for their products. At Nor-Cal, we often take these recommendations when integrating alarms for a site.
Owners, operators and O&M providers also have input. We work with customers to determine the priority/severity they want assigned to each alarm point in the system—for the inverters, tracker controllers, combiner boxes, transformers, MET station sensors, etc. We can then go into the alarm software and set the priority for each point.
This is done through the SCADA HMI software platform. Different software platforms have different alarming capabilities. We commonly use GE Cimplicity HMI for our solar PV project applications, often with an included module called Alarmcast for enhanced alarm management. Ignition is another SCADA HMI software solution that we use often, which also has the capability for more advanced alarm management.
What are the different platforms where you can receive and view alarm notifications?
The main way is through the HMI platform—the computer screen that displays plant data. With the right software, alarm notifications can also be "pushed out" through email or SMS (text messages).
Who is notified of an alarm and by what means are they notified?
This depends on the preferences of the owner, operator and O&M provider.
As part of the setup process, we work with customers to decide who should receive alarm notifications, and by what method/platform. These are called alarm flows. We can set up different people to receive different priorities of alarms, by different methods.
For example, the Director of Operations probably doesn't need to know about a low priority maintenance alarm. You may just want to send an email notification to the maintenance staff for that, or only have the alarm visible through the HMI platform so operators see it.
If a high priority alarm goes off, though—say there's a problem with a transformer or the plant has tripped offline—then you'd need to inform as many people as possible. Anyone involved with the operation of the plant would need to know, including all the operators, operational managers, and asset managers from the owner's side. The plant owners themselves may want to be notified. This could be done via SMS as decisions would need to be made as quickly as possible.
What is considered the best way of depicting alarms?
The best way is through the HMI, since the operators are constantly monitoring. Alarms can be depicted there either through a list that's always at the bottom of the screen, or as an actual object on the HMI. This might look like a notification "bubble" with a description. Colors may be used to get the operator's attention: green when the alarm is normal,and flashing yellow or red when the alarm is active and needs immediate attention. These tend to get the operator's attention on a screen that's filled with data.
How do you acknowledge an alarm?
This is done through the alarm interface described above. The operator can select a particular alarm from the alarm list and click an "acknowledge" button. This acknowledges that the operator has seen the alarm and is going to address it. It's much like marking an email as read. The alarm "grays out" on the list but doesn't disappear until the alarm has been cleared (addressed). This helps keep track of where the different alarms are in their stages.
What kinds of alarms are typically required to be placed on the primary HMI screens?
Typically, high priority alarms need to be embedded in the HMI screens. This makes them much more visible than just an alarm list at the bottom of the screen. For example, if a piece of equipment is failing or if you have a breaker status opening and closing, you'd want that information depicted as a dedicated "alarm bubble" on the HMI. You'd need to have that alarm immediately visible in order to take swift action.
What are some typical issues that may occur with alarms?
The biggest issue is false alarms, which can turn into a potentially huge problem if you're continually sending out maintenance crews to fix problems that aren't really there.
The commissioning process helps to prevent this. Even still, false alarms can sometimes occur. Operators need to be able to look at the alarms showing up in their systems and compare that with other information they have available. Solar performance analytics software, like Power Factors Drive, automates this process and helps reduce false alarms by validating plant data before it goes into the event engine that triggers the alarms. You can read more about that process here.
Keeping a history of the alarms is also important. Operators need to keep some kind of record of how many alarms occur, and how often. The historian software stores that data. There is also typically an alarm history screen on the HMI that helps keep track of alarms over a period of time.
How can Nor-Cal help with integrating or troubleshooting your SCADA alarms?
With over 7GW worth of successfully commissioned solar PV projects to date, our engineers know the industry standards for alarm integration inside and out. We'll make sure you're set up for success with a turnkey SCADA solution that's open source, readily scalable, and completely customized to handle your current and future needs. Schedule a call with us today to learn more.
Nor-Cal's technical support goes above and beyond in helping operators understand troubleshoot their system alarms. We're always willing to step in and help explain or figure out why an alarm might be occurring.
In addition, we offer SCADA training for solar plant operators that includes alarm management and troubleshooting. Join us at our Northern California headquarters for a group course, or enquire about private, site-specific training. We'd be happy to see you there! Check the training schedule for upcoming classes.